If you own or have ever worked in a small business, you know how stressful it can be to juggle day-to-day tasks while also managing the ever-ringing phone line. According to research we conducted, nearly half of calls to local businesses go unanswered. And when calls do get picked up, conversations are often rushed, and follow-up details get lost in a pile of sticky notes. 
This May, my team within Area 120, Google's workshop for experimental products, launched CallJoy, a virtual phone agent for small business owners. Today, we are greatly expanding our capabilities and releasing a smarter, more intuitive agent that can assist callers by asking a simple question: "How can I help you?" Then, the agent intelligently responds based on the caller's answer.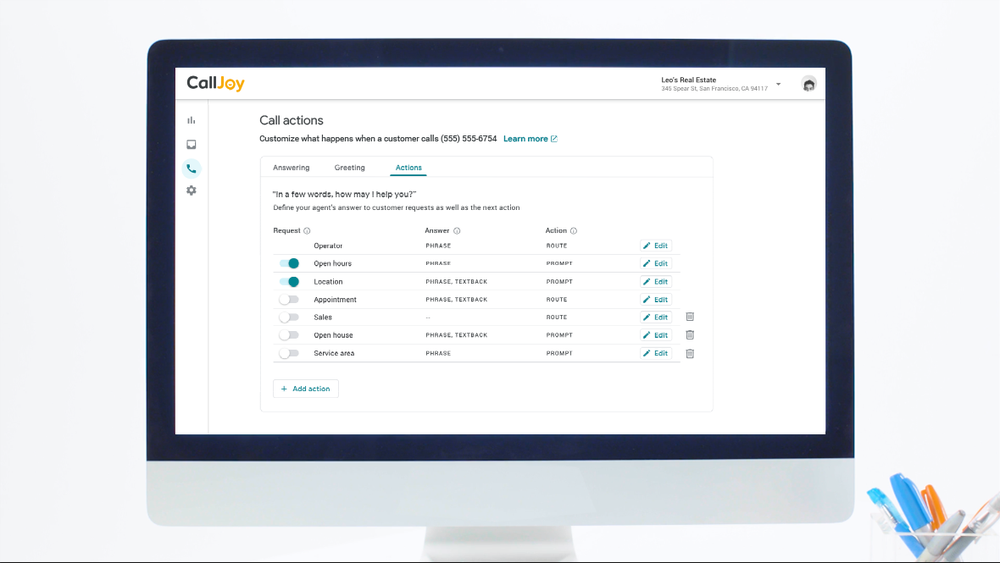 A more intelligent phone agent 
With the launch of our new agent, owners or managers of local small businesses can easily enter a set of expected questions or phrases and define what action the agent will take when those phrases are used. The more information a small business owner gives to the agent, the smarter and more responsive CallJoy becomes. 
For example, a caller might ask a restaurant's agent, "Do you have vegetarian options?" If the small business had entered the phrase "vegetarian" into CallJoy and defined a verbal response for the agent, the agent could respond, "Yes! Our menu has vegetarian and vegan-friendly choices. Can I text you the link to our online menu?" 
Since no small business is the same, CallJoy makes it simple to train the agent on how to handle customer inquiries. The agent can not only speak an answer, but also send a link and then continue the conversation or connect to the business's phone number. Starting today, there are an unlimited number of ways to set up your CallJoy agent.
The entire virtual customer service experience is professional and friendly, without requiring any time from the business owner or staff. Of course, if you want to talk to customers live, you can customize that, too. With this major release, you have even more flexibility based on your small business's specific needs and how you want to handle calls. You can choose exactly when the agent is involved in the call answering process, such as only answering after hours or after the phone rings six times. CallJoy is there to help, but you're in control.
Focus on what you do best
If dozens of customers call your business at one time, CallJoy adapts to handle all calls and does so at any time of day. The virtual agent can help multiple patrons book appointments, learn about your business's hours, route the call to the right staff member and more—all at once. This allows your business to serve a larger number of customers, all while freeing you up to do more valuable tasks.
You'll probably be curious what the virtual agent did on your behalf during the day, and that's why CallJoy records and transcribes each conversation and sends you a recap via email every day. Small business owners can easily search and tag transcripts to track the details that matter most. Best of all, these additional insights and features are available at our same flat monthly rate of $39.
With CallJoy, we're helping small businesses across the U.S. save time while also providing customers with better service through a more intelligent phone experience. Small business owners who are interested in setting up a customized CallJoy phone agent can sign up for a 14-day free trial.
from CallJoy's new agent helps small businesses answer calls via Google voice for business