Chromebooks help teachers stay organized, jazz up their lesson plans, and collaborate with students. But did you know they can improve the way schools administer assessments? With a secure platform, Chromebooks are ideal for formative assessments, like state exams, or pop quizzes throughout the year. While testing is key in tracking students' progress, it often only happens at the end of the year, semester, or unit. That's too late to fix a concept that students don't understand, but educators can use Chromebooks to check in along the way.
Many testing solutions, one device
Let's check out three ways instructors and schools can use Chromebooks for better assessments – and how you can now use accessibility apps and extensions to support all learners while test taking.
1. Helping to cut distractions during test time 
Many instructors use Google Forms Quizzes for formative assessments and understanding student progress. But we've heard instructors worry it's too easy for students to get distracted, browse the web for answers, or chat with classmates on Hangouts. To keep pupils focused on the assessment—and put educators at ease—we created locked mode in Quizzes. Locked mode takes over the screen so students can't navigate away until they submit their answers. And if a student exits the quiz, or opens any other tab, the teacher receives an email letting them know. Once the student hits the submit button, they can resume normal use of their Chromebook.
"Locked mode allows me to assign a quiz to a set of students and then not worry about them going to other sites or access content that they shouldn't," says Chris Webb, High School Math teacher in Montreal, QC and Google Certified Trainer and Innovator. "It has exceeded my expectations and has allowed me to administer math quizzes without worrying that students will try to use Google or other tools to find the answer."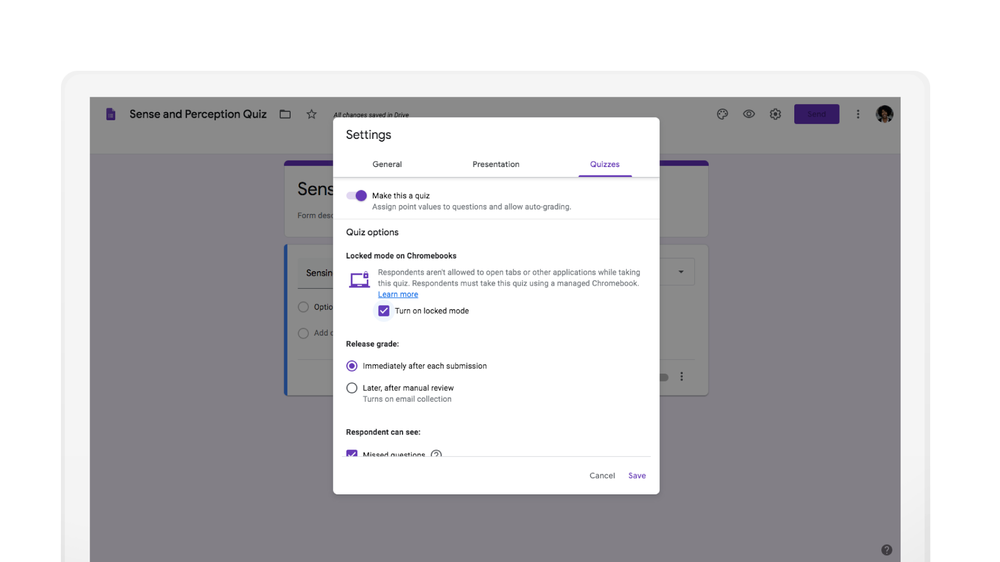 2. Turning devices into secure high stakes testing tools
Kiosk mode lets administrators use Chromebooks for high stakes testing by enabling the exam app to run in full-screen mode on the device. And kiosk mode is simple to set up – once enabled, it stops students from accessing the web or external storage, taking screenshots, or printing. Learn more about using Chromebooks for assessments. 
3. Supporting better testing for all types of learners
All students learn, and show what they know, in different ways. Last year, we shared that you can use apps and extensions like Texthelp and Don Johnston, as well as Chromebook accessibility features like Speech To Text and Word Prediction, when using locked mode in Quizzes in Google Forms. And today, we're partnering with Pearson to provide integrated extensions for its online test delivery platform, TestNav. 
Texthelp® works in Google Form Quizzes as well as Pearson's TestNav so students can use Read&Write for Google Chrome and EquatIO® for Google. These tools help with reading, writing, and creating mathematical equations. They give students a little extra support if they need it, so they're empowered to demonstrate their knowledge. 
Don Johnston's apps Co:Writer and Snap&Read integrate with Chrome, even in locked mode, and with Pearson's TestNav. Co:Writer provides word prediction, translation, and speech recognition, while Snap&Read offers read aloud, highlighting, and note-taking. These integrations allow students to get real-time writing and reading help while taking tests.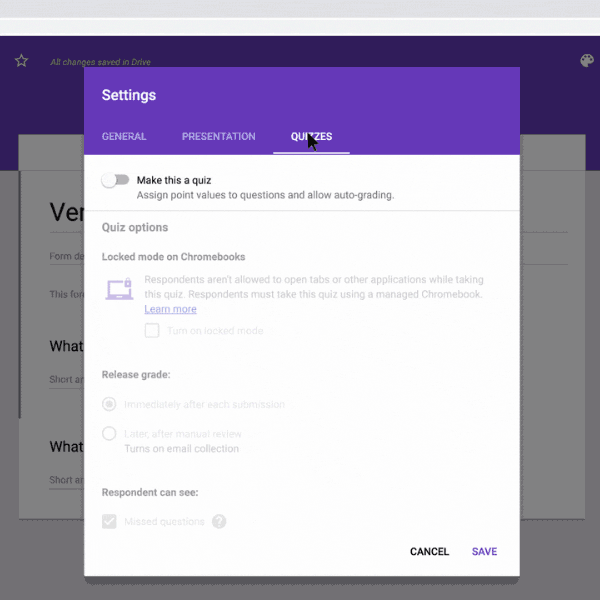 from From pop quiz to final exam: Chromebooks pass the test via Google voice for business