Huddle up, football fans! It's almost game time. This Sunday, people around the country will gather to watch Kansas City and San Francisco face off in the biggest football game of the year. We took a look at Google Trends data to see the top questions, recipes and topics people are searching for. Fun fact: Search interest in Roman numerals spikes every year at this time (and this year roman numeral LIV is no exception) .
While the teams get ready to go head to head, Search and the Google Assistant can provide  information about Sunday's showdown, help you prep your game day appetizers, give you fun ideas for your watch party, and keep you updated with the latest plays during the game. Score!
Football fan face-off
Our two conference champions are causing chatter across the U.S. Search interest in both San Francisco 49ers and Kansas City Chiefs have reached an all-time high. What team will you cheer for this Sunday?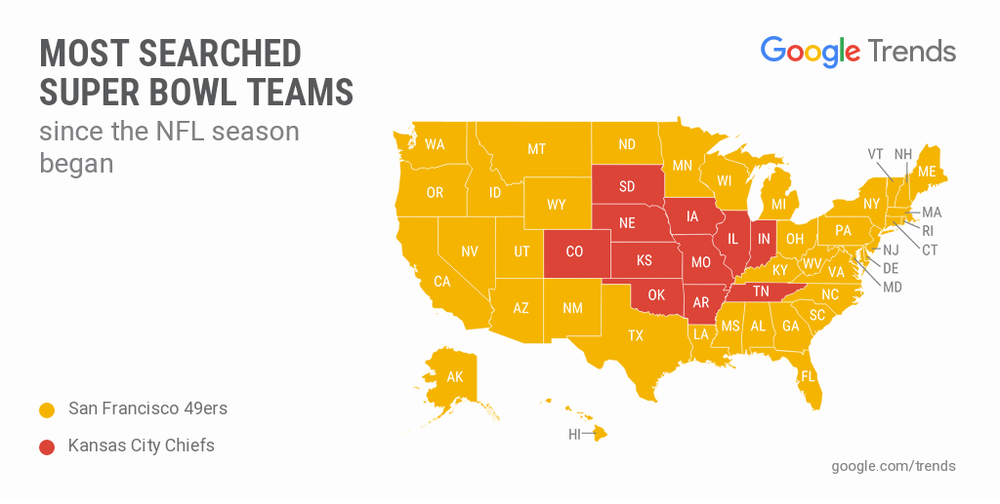 And football isn't the only thing we're excited for. This year's halftime artists are ready to "Get Right" and put on an amazing show—here are their most-searched songs in the U.S. over the past five years.
Most searched Jennifer Lopez songs
I'm Real

Get Right

Dinero

Waiting for Tonight

Ain't Your Mama'
Most searched Shakira songs
Waka Waka

Try Everything

Chantaje

Whenever, Wherever

She Wolf
For some nostalgia, we took a look at the most-searched halftime performances in the U.S. since 2004. Talk about a top-notch lineup. 
Bruno Mars

Janet Jackson

Maroon 5

Lady Gaga

Beyonce
Game Day goodies
From white chicken chili to football cookies, this year's most uniquely-searched game day recipes in each state will have your mouth watering. And with the Google Assistant, you can get step-by-step help cooking on Smart Displays, like Nest Hub Max. Get started by saying, "Hey Google, show me recipes for seven layer dip."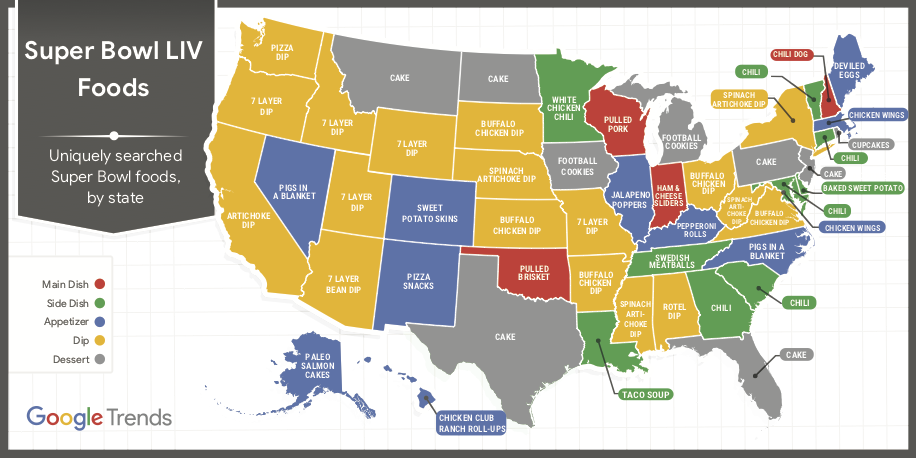 No matter what team you're cheering for, yummy food is something we can all agree on. Here are the top five most-searched game day foods since 2004 (buffalo chicken dip is the G.O.A.T. of snacks!).
Buffalo chicken dip

7 layer dip

Chili

Spinach artichoke dip

Taco dip
Get in the game with the Assistant
The Assistant can keep you updated on the event or bring more fun to your watch party. Start by asking, "Hey Google …": 
"Watch FOX on YouTube TV" to have your Assistant play the big game on Smart Displays, like Nest Hub Max.

"Who do you think will win the big game?" to hear the Assistant's prediction.

"Help me talk like a football fan" for tips to sound like a pro—even if you don't usually watch football. 

"Tell me a football joke" for a few laughs.

"Touchdown!" to add to the celebration when your team scores.
No matter what you're searching for, Search and the Google Assistant can be your game day champion. For the latest on what people are searching for this weekend, see our Google Trends page. 
from Gear up for the Big Game with Search and the Assistant via Google voice for business