In today's mobile-first world, people use a wide range of device types. As a result, app publishers who use banner ads must now serve them across a greater variety of screen sizes and layouts.  While some responsive banner ad formats exist, they often produce ads that are too small and not sufficiently tailored to the height and aspect ratio of each device.
To address this, we've created a new banner type called adaptive anchor banners. These ads dynamically adjust banner sizes to deliver a creative that is ideally sized across your user's devices without the need for any custom code.
The adaptive anchor banner advantage
Adaptive anchor banners are designed to be a drop-in replacement for the industry standard 320×50 banner size and the smart banner format.  Standard sized banners return the same sized creative across every screen, which often results in ads that appear too small or too large. Smart banners only support fixed heights, so they often return creative that appears too small on high-res devices. 
Unlike other banner APIs on the market, adaptive anchor banners consider the device in use, the ad width you're comfortable using, and the aspect ratios and performance of all available demand.  Adaptive anchor banners return creatives with the best height and aspect ratio for each device, with hard limits to prevent the wrong sizes from being served.
Your banners will look better than ever in your app, and writing custom code to handle different devices will be a task of the past. Using this format in place of standard and/or smart banners can help you maximize revenue while also making managing your ads less complex and more efficient.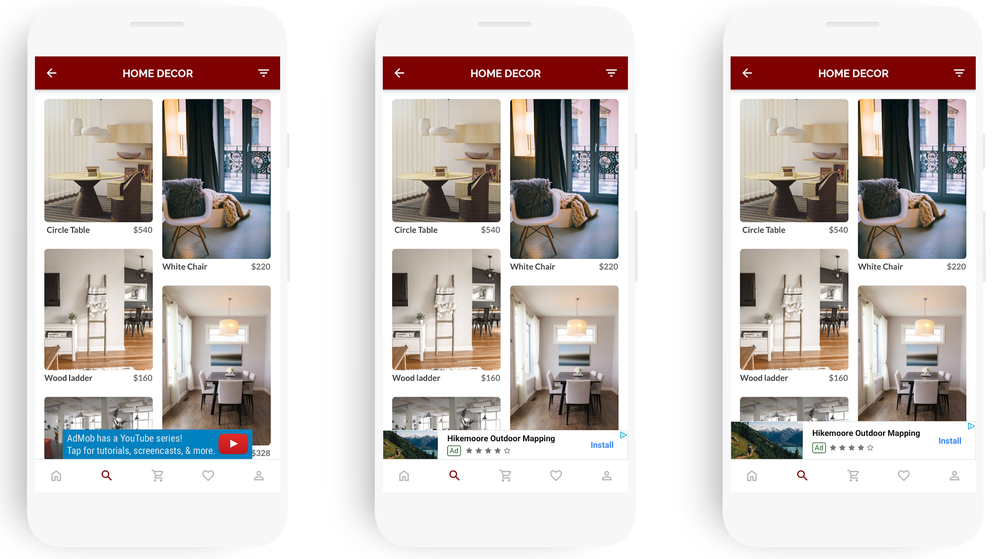 Getting started with adaptive anchor banners
Adaptive anchor banners are a great option for AdMob publishers who want the simplest solution to getting the best banner ad returned across any device.  This format is still in beta on Google Ad Manager, so publishers who want to try it out on that platform should reach out to their account managers or contact our support team.
Adaptive anchor banners are currently only available for anchored placements—banners locked to the top or bottom of the screen. However, AdMob is actively developing another adaptive algorithm for in-line banners placed in scroll views or within content.
To get started with adaptive anchor banners for AdMob, check out our implementation guides (iOS, Android). We walk you through when it's appropriate to use adaptive banners, implementation notes, and code examples.
We recommend testing adaptive banners against some of your existing banner ads to understand how they can help you maximize fill rates, engagement, and revenue.
from Upgrade your banner ads with new adaptive anchor banners via Google voice for business